Elizabeth II's remains leave Edinburgh Airport
A Royal Air Force C17 Globemaster plane carrying Queen Elizabeth's coffin took off from Edinburgh Airport with full military honours.
He is on his way to London, where he is expected in less than an hour.
The plane carrying Elizabeth II's coffin prepares to take off
Queen Elizabeth II's coffin was placed inside a Royal Air Force aircraft. The remains were quietly carried away before Princess Anne joined.
After a 55-minute journey, the flight is scheduled to land in London at 7:30pm French time.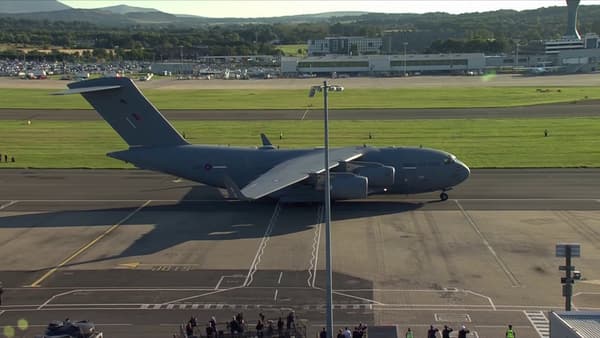 Elizabeth II's coffin arrives at Edinburgh Airport
Elizabeth II's coffin prepares to leave Scotland. He will fly to London in a Royal Air Force C17 Globemaster.
The royal motorcade traveled 14 kilometers between St-Gilles Cathedral and the tarmac, with Scots lining the roads to clap and pay their last respects.
Princess Anne will escort the body to the English capital, where the coffin will be received by King Charles before spending the night at Buckingham Palace.
Elizabeth II's coffin leaves Edinburgh
Elizabeth II's coffin leaves St Giles Cathedral in Edinburgh to the sound of bagpipes.
The final procession takes place in front of thousands of Scots who have come to pay their last respects to their Queen.
Princess Anne, who is in Edinburgh, will accompany her mother to London. The coffin will be carried by a Royal Air Force C17 Globemaster aircraft that has carried out many humanitarian missions in the past.
Charles III leaves Belfast to visit Buckingham Palace
The religious ceremony concluded at Ste Anne's Cathedral. King Charles III allowed himself a walk before heading to London to receive the Queen's coffin at Buckingham Palace.
Within an hour the coffin was due to leave Edinburgh for the English capital.
Religious Festival in Belfast
The King is at Ste Anne Cathedral to attend a service in honor of Queen Elizabeth.
The King addresses Northern Irish leaders
"My mother felt deeply the importance of her role in bringing together those who had been separated by history and in healing long-standing wounds," said King Charles. Hillsborough Castle.
Before her, Alex Maskey, leader of Sinn Féin, the party that supports the reunification of Northern Ireland with the Republic of Ireland, welcomed the Queen's role and spoke of it as a "witness to social and political change". Visit in 1953 and his second visit in 2012.
"Yesterday a crowd of unionists, republicans and nationalists gathered to pay tribute to the late Queen. When she first ascended the throne, no one would have expected such a diverse and inclusive assembly."
A visit to Northern Ireland in tension
The new King Charles III is traveling to the four countries of the United Kingdom this week, but it is in Northern Ireland that the most important test of reconciliation awaits him.
Northern Ireland has only known peace since 1998, and it remains tenuous.
Northern Irish unionists, deeply committed to Queen Elizabeth II, fear that their cause of belonging to the United Kingdom is under threat more than ever in a political climate disrupted by Brexit and the historic rise of republican nationalists. Ireland.
Sinn Féin, for its part, refuses to recognize the authority of the monarchy in Northern Ireland, and does not occupy its seats in the Westminster parliament.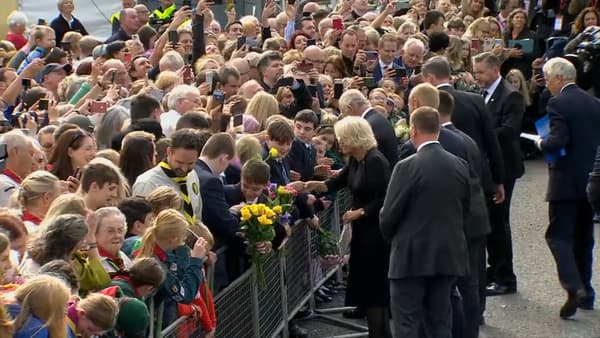 Brides come to Edinburgh to say goodbye
Tens of thousands of people flocked this Tuesday to pray in front of Elizabeth II's coffin in Edinburgh before it is moved to London, where a grand farewell is being prepared.
Thousands of anonymous people gathered before the oak coffin in the Scottish capital's cathedral, bowing, bowing, signing or wiping away tears.
Early on Tuesday morning, the Scottish Government warned that waiting times were around two hours but that queues could be longer in the morning.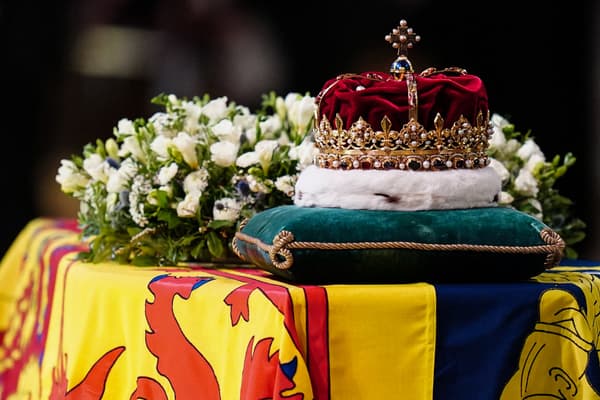 Russia, Belarus and Burma were not invited to the funeral
More than 500 leaders from around the world have been invited to the Queen's funeral on Monday. Russia, Belarus and Burma are not on the list of invited countries.
After the queen's death, Vladimir Putin said he "didn't plan" to attend her funeral.
King Charles III on his way to Ireland
Charles III and his wife Camilla are expected to meet the leaders of the main parties in Northern Ireland on Tuesday. Prime Minister Liz Truss will join them there.
"Proud social media buff. Unapologetic web scholar. Internet guru. Lifelong music junkie. Travel specialist."